Double Dutch Digital racing in the Low Lands
---
tamar

-

21-10-2017 at 11:36


Double Dutch Digital racing in the Low Lands
For the 4th time the SRC Eindhoven will host the Dutch Digital event on the renowned Low Lands Suzuka Ninco track in their spacious club on the Sint Odulphusstraat 2b, 5682 AB Best, the Netherlands. As in 2017 the event will sport a double feature with GT3 racing on the saturday and the Suzuka 6hrs WEC endurance on sunday.

The Low Lands Suzuka Double Digital is a perfect opportunity for all slotracers on the Northern European continent to try Oxigen racing in an Endurance format and has become the place for the digital regulars to test their cars in  preparation for the Oxygen Le Mans 24hrs in Henley in Arden.
For new teams the organisation can provide technical assistance on how to chip cars during Friday's and Saturday's free practice sessions and has several Slot.it controllers available for rent, if teams require them.

Suzuka GT3 Support race
As in 2017 the DiSCA GT3 cars with teams of either two or three drivers, will kick off the event on Saturday from 09:00 till 14:00hrs.
There will be one 60 min. Timed Practice session and two 60 min. Races with one mandatory pitstop of 1 minute duration.
Besides the above mentioned, full Disca GT3 rules will apply for the Suzuka support race.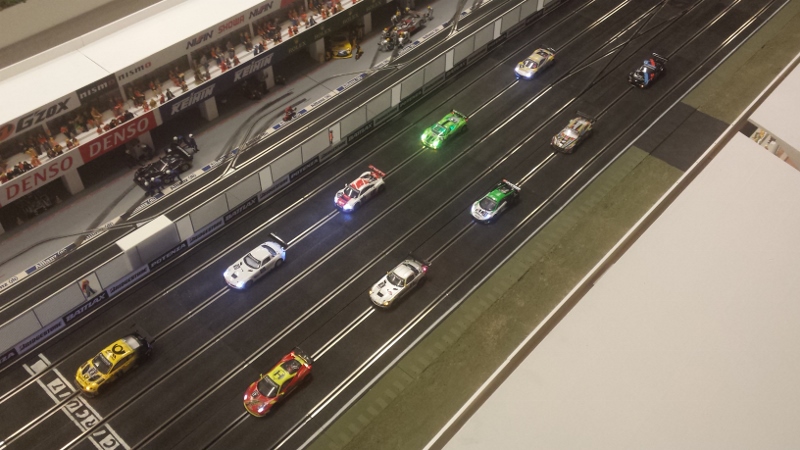 Start grid of the 2017 DiSCA GT3 support race, photo: Giovanni Rusello
 
Suzuka 6hrs WEC, Prologue to the Oxigen Le Mans 24hrs:
With the Suzuka 6hrs run under the same DiSCA WEC Sports Cars rules as used for the Oxigen LM 24hrs, it has proven itself as the perfect oppertunity for teams to test their cars. for "the Big one". With its banked corners and elevation changes the Suzuka track will bring different challenges for the teams in both set up and strategy.
Although most teams adapted their cars for Suzuka it was interestring to see that the top 5 at Suzuka all did score good results in the Le Mans 24hrs.
With free practice staring on Friday afternoon there will be plenty of time for teams to check out the track and set-up...or not...time flies when you're having fun.

Deviations from the DiSCA rulebook
Due to its shorter duration and the inclusion of a (GT3) support race, there will be a few deviations from the DiSCA rulebook for the Suzuka 6hrs main event.

Teams will be hand out 1 motor at random (Flat-6 or MX-16) These motors have been tested, matched and run in by Slot.it. Should in the unlikely occasion a motor be defective,
teams will recieve a new one from the organisation.
Teams will be hand out 2 pairs of N18 and 2 pairs of F22 at random. Both compounds must be used during the main race. Hand outs will be available on Saturday after registering at the race control.
Although teams are free to run their own motors and tyres (of the same type and or compound) during free practice we advise teams to mount their handouts before the end of free practice
This way you'll be able to hit the ground running on Sunday morning.
If you use this option you will have to place the parts in the Parc Ferme overnight (can also be the whole car, chassis or pod with motor rear axle and wheels)


Pacecar leading the WEC cars on the formation lap of the 2017 Suzuka 6hrs, photo: Theo van den Hurk.

Low Lands Suzuka Double Digital Time Table
Friday 26 januari 2018
14:00 - 22:00 Free Practice WEC & GT3

Saturday 27 januari 2018: DiSCA GT3 / WEC 6hrs Suzuka Free Practice

DiSCA GT3 Sprint race
08:30 Doors open,
09:00 Driver's briefing.
09:15 Registration Controller & ID check.
09:30 Timed Practice (60 mins)
10:35 Tech inspection and Rostrum position choice based on best time from timed practice.
10.55 Line up Grid Race 1
11.00 Start Race 1 (60 mins)
12.00 Intermission
12:35 Tech inspection Race 2
12:55 Line up Grid Race 2
13.00 Start Race 2 (60 mins)
 
WEC 6hrs Suzuka Practice
14:00 - 19:00 Free practice/ Registration/ Hand out materials, controller/chip check & pairing
(note: handout parts must be back in the Parc Fermé by 19:15)
19:15 Close Club
19:30 - 22:00 Diner & Award ceremony GT3

Sunday 28 januari 2018, WEC Suzuka 6 hrs Endurance
08:30 - 09:30 Free Practice for teams that did not participate in Saturday's WEC Practice session
Hand out race motor & tyres, controller/chip check & pairing
Release cars/parts from Parc ferme. of teams that attended Saturday's WEC Practice session
09:35 - 09:45 Racebriefing
09:50 - 11:30 Timed Qualification & Technical Inspection
11:35 - 11:50 Concourse & Team photo's, Driver Rostrum selection based on qualification result.
11:50 - 11:55 Grid formation
12:00 - 18:00 WEC Suzuka 6 hrs Endurance
18:15 - 18:30 Award ceremony .
 


Driver rostrum during the 2017 Suzuka 6hrs, for 2018 the number of driver positions had been extended to 15.  photo: Theo van den Hurk.[/size]

Entries & Registration:
Registration for the 2018 event will open on October 28th, 10:00 (GMT+1). Teams that want to enter this event will be able to apply via the online entry form that will be posted here on that day.
For the 2018 edition a max. of 15 applications will be accepted for the 6hrs WEC race on a first come first serve base, with a further 4 applications placed on the reserve list.
Entry fees will be €80 for the WEC race and an additional €20 p/team for the GT3 support race
Accepted entries are required to have payed their entry fee in full by November 28th , in case of non payment the first team on the reserve list will be granted an entry etc etc.
Final instructions, including the final entry list, firmware for chip and controller, and any travel considerations will be issued to team captains on Jan 5th.

I will be more than happy to answer any "international" queries here on the forum or via PM.
Paul vd Hurk (Dutch Touch, SRC Eindhoven) will handle enquiries via email at paulvdh@srceindhoven.nl
You can also follow the developments for the Suzuka Double Digital event via the SRC EIndhoven Facebook page


On behalf of the Src Eindhoven
with kind regards
Tamar


Update Oct 28th 10:00 Click on the link below for the online registration form
Google doc Online Registration form
---
mtucker

-

22-10-2017 at 12:49

I know of at least 3 Uk teams who'll try to secure an entry, last years innaugral event was excellent.
---
Nick Wade

-

22-10-2017 at 13:53

Hopeful six are hoping to field two cars had we had such a good time last year
---
tamar

-

28-10-2017 at 10:01

Registration for the Low Lands Suzuka Double Digital has been opened.
The link to the online form can be found at the bottom of the first post
 
 
 
with kind regards
Tamar
---
mtucker

-

28-10-2017 at 11:42

Got ours in, needed to be quick as hotel and flights were already booked!
---
Nick Wade

-

18-8-2018 at 08:36

Hopefully we are in too
---
tamar

-

30-10-2017 at 03:36

Suzuka Double Digital: Provisional Entry List
Hello Slotters
I'm very proud and pleased to be able to post the first provisional entry list for the 2018 Suzuka Double Digital event. Within less than 36hrs we've recieved 14 team registrations with two teams firmly securing their place on the grid by paying their registration fees in full. Although there will undoubtly be some changes amongst the cars and drivers in the coming months, it looks like we're going to have a very interesting and representative grid. No less than 6 GT's, 4 LM P2's and 4 LM P1's, with a new car making their first on track apearance in every class.
Here's a quick preview.
 
 
GT
A near perfect combination of the Grand Touring cars, just needs an Aston Martin to make it a perfect one. For DiSCA regulars North Staffs and S-slotracing for Holland, the Suzuka 6hrs will be the perfect way to get some competion miles on their American Muscle cars. The local SRC Eindhoven gentleman drivers 50+ will be the first to race the new F488. Dutch Slipstream is most likely to field a Ford GT for their return to Suzuka as a full club team. Two new Belgium teams will make their debut at Suzuka, Dragonspeed has entered a McLaren 650S and SRCB-Z-machine will be defending Porsche's colors. The team from Charleroi Belgium certainly knows its way around Suzuka (their Carrera track also has the Suzuka lay-out) and has loads of digital race experience.


Who will do a proper Aston Martin Vantage GTE, its the only car missing for a perfect GT grid


LM P2
Looks like the biggest breaktrough of fully 3DP slotcars will be found in this class with 3 totally new designs. Olifer 3D the driving force behind the design of the British H2Olifer Ligier JSP2 and Portuguese Olifer racing Oreca 07 while last years overall winner Racing for Belgium is working with SV workz to develop their open topped Oreca 03.
They'll all be challenging 2017 winners Eastcote Exiles who will return with their trusted and well developped Acura HPD ARX-01d. Level of competition in this class is expeted to be high and even an overall win might not be beyond their reach.


Racing for Belgium hopes to unviel their first 3d printed Oreca 03 in the coming weeks.
 
 
 




The Hopeful Six stick to their favorite livery, their new mean green machine a Ligier JSP2..but will race it as a P1
 
 
LM P1
In the top tier prototype class we have 4 strong contestants going for the overall victory. Rockingham will return with their Toyota TS030 but with a hefty development program under their belt.
Stryker racing has switched camps for 2018 moving from Audi to Porsche but will have to miss the guidance of their Team captain who will be on reporting duty at the Daytona 24hrs.
The Danish Road Kings made a very strong impression at the LM 24hrs, Suzuka will be the first chance to run their new ByKolles CLM P1 in anger.
Last but not least Suzuka and Le Mans regulars  Hopeful Six have ditched their green Krohn racing Ferrari 458 for a green Krohn Racing Ligier JSP2 which they will enter in P1

With the 2017 winners and runner up having moved to different classes P1 is going to be an open race.


Danish Road Kings hope that their ByKolles CLM P1 will give them yellow wings

 
1   S-slotracing for Holland, NL, LM GT, 2017 Corvette C7R #63
2   50+, NL, LM GT, 2016 Ferrari 488 GTE #82
3   Rockingham, GB, LM P1, 2013 Toyota TS030 #4
4   Eastcote Exiles, GB, LM P2, 2011 Acura HPD ARX-01d #36
5   Road Kings, DK, LM P1, 2015 ByKolles CLM P1 #4
6   North Staffs, GB, LM GT, 2013 SRT Viper #93
7   Slipstream, NL, LM GT, 2017 Ford GT #67
8   H2Olifer, GB, LM P2, 2014 Ligier JSP2 #35
9   Dragon Racing, B, ASIAN LMS GT, 2015 McLaren 650S GT3 #3
10 Hopeful Six, GB, LM P1, 2016 Ligier JSP2 # 40
11 Olifer Racing, P, LM P2, 2017 Valliante Oreca 07 #27
12 Racing for Belgium, B, LM P2, 2013 Oreca 03 #40
13 Stryker Racing with Porsche, GB, LM P1, 2017 Porsche 919 #1
14 SRCB Z-Machine, B, LM GT, 2017 Porsche 991 #91
 
So that's it for now, 14 registrations, just one more place open on the grid after which we'll be adding Teams to the reserve list.
But, as I mentioned before, this list is stil provisional, depending on registration fee's being due by Nov 28th.
Looking forward to see you all in Januari 2018

on behalf of the SRC Eindhoven
with kind regards
Tamar
---
abie321

-

30-10-2017 at 09:55

Absolutely gorgeous looking track Tamar - maybe we can arrange a visit?
---
tamar

-

30-10-2017 at 13:34

Hello Anthony, thanks for the compliment.
You're always welcome at the SRC Eindhoven, which is just less than 2hrs from your doorstep


regular clubnights are Thursday and Friday evening, but the key members of the club open frequently in the weekend.
Check their FB page or contact me to make an appointment
---
Tom v L

-

25-12-2017 at 08:49

Long time that something has been posted in this topic!
 
How far are the teams allready in their car preparation progress?
 
Racing for Belgium started their car at the beginning of last week,
it's going slowly but steady.
Nothing is being overlooked and doublechecked immedietly.
 

---
Nick Wade

-

5-12-2017 at 11:07

Hopeful six are taking on a whole new project this year it's coming along slowly!

---
tamar

-

25-12-2017 at 16:49

Hello Gents
Sorry for not posting lately , but december has been crazy time wise.
Hope to catch up in the next couple of days with some updates on the Suzuka Double Digital event, some pictures of the Road Kings By kolles to share and hopefully also some updates on our C7R

but first...
Wishing you all a merry, merry Christmas
---
Grunz

-

25-12-2017 at 19:44

Hey Tamar and All
merry christmas. Looking forward to Jan.
Question for Tom: is that a scaleauto R8 partially visible in the background of the pic in your last post?
---
Tom v L

-

25-12-2017 at 21:08

Hello Gio,

I have to disappointed you here, that is not the Scaleauto Audi R8.
It's the SCX Audi R8 with an Olifer chassis.

She will be build to DiSCA GT3 regulations, But unfortunatly due to time shortage wont be finished for the Saturday races.

I do hope to get my hands on a Scaleauto version Audi R8 soon.
---
Grunz

-

25-12-2017 at 22:07

Argh! I hoped that you were doing some beta testing for them ;-)
I would have said to suggest them to make the fog light covers removable so that one could install LEDs.
On another note, some time ago I saw in your galleries pictures of two porsche 991 RSR: one in the new porsche livery and the other one in the Kodak red/yellow/black. Are you going to post some writeup about them?
I am planning to do a scaleauto 1/24 991 in that livery...although some details in the model (especially the front end) do not correspond with the real car.
---
Tom v L

-

26-12-2017 at 13:17

I wish I could do the beta testing of the Audi, would be great.

And about the 2 Porsches, Ive been asked before.
So I will have to do that at some time, probably next week or so.
---
Grunz

-

31-12-2017 at 07:33

Hi All 
I wish you a great 2018 and looking forward to seeing you in person in Eindhoven! 
Here some pics of the entry Gary and I will be racing. 
I will write more about the making of this car in a dedicated thread. 
For now, I will say that Gary designed the decals in the UK while I did the assembly and painting in Auckland. 
Then decals were printed by Colin at C&C Designs and sent to Auckland by priority mail.
The Royal Mail decided to put the decals on the back of a dolphin that took two weeks to get here! ;-)   
 
 


 
Just saying but this car is one of the entries for the [font=Helvetica, Arial, sans-serif]Sideways International PaintingCompetition - LB H GT3. ;-)[/font]
---
tamar

-

31-12-2017 at 03:08

Hello Gio

Really nice Huracan you guys are bringing to Eindhoven, will this be for the GT3 or WEC..or both wink.png

with kind regards
Tamar

p.s. Looking forward to your build report .

And for all of you guys out there in a couple of hours..and I guess that time has already come for you Gio,Happy New Year!!!!!
---
Grunz

-

31-12-2017 at 11:02

The new year is official in full swing here...racing your way at 1600 km per hour.
This will be our entry for GT3 Euro series. Not sure what will happen for the 6h.
---
Nick Wade

-

7-1-2018 at 07:55

Just a quick question, what are the plans for the GT3 race on the Saturday? Is there a separate registration?
---
tamar

-

7-1-2018 at 08:10

Hello Nick
A checkbox for the GT3 race to register was included in the Suzuka online registration form.
You ticked it and have one entry for the GT3

Richard (Hill) also inquired if he could enter a second GT3, so if he does we have 15 GT3 cars on the grid.
The problem is we're a bit limited on Driver rostrum space, we might squeeze in 16 for the GT3 race but that would be the max.
---
Nick Wade

-

8-1-2018 at 16:55

Ok thanks Tamar we just have to work out numbers and I will let you know
---
Tom v L

-

17-1-2018 at 10:27

Only a few more days to go till one of the better events that I ever participated in.
 
To give you all a glimpse on how far "Racing for Belgium" is with the preparation of the Oreca 03.
 
Here are a few shots taken this weekend.
 


Before
 
 


After, and a few details that still need my attention.
 
 


All the mechanical parts put together (minus the front inserts, still drying)
 
Still waiting for my decals to arrive, so in the meantime I'm allready prepping the lightkit as much as I can to save some time installing the kit into the car.
Hopefully I have some sparetime to get to the track this Friday, so the car can have it's first little shakedown.
But I'm suspecting a few minor glitches that need a bit more work.
---
Nick Wade

-

18-1-2018 at 10:24

Nice work Tom out car is also coming along nicely.

---
Wiggie

-

23-1-2018 at 10:40

SlipStream's competitor for the supporting GT race nearing completion..... how will it perform?



regards Marc
---
Wiggie

-

23-1-2018 at 10:53

And the GT(LM) Ferrari for the main event on Sunday....
 

 
Regards Marc
---
tamar

-

23-1-2018 at 19:41

Nice work Marc

Both GT's look very well prepared. Nice and clean install, looking forward to see these two cars make their debut on the DiSCA races.
Just on tip. I would reroute the wires for the Hall sensor.
Now they cross under the motor wires which can cause interference on the hall sensor signal.
Better route them so they cross over the chip in front of the motor wires.
---
mtucker

-

23-1-2018 at 21:51

Also worth ensuring you have 1.8mm motor clearance with the standard scaleauto foam tyres which are 20.5mm in diameter new. With 1mm offset motor pods getting that clearance is not straightforward
Matt
---
Wiggie

-

24-1-2018 at 12:04

Thanks for the advice guys.

Wires have been rerouted and the 0.0.pod is ready to be installed
---
LMP

-

26-1-2018 at 00:12

Greetings all! I've touched down in Holland and have spent they day with Tamar preparing for the weekend ahead.
 
Attention:
Today's preparations included a call with Slot.it where we've been issued a hand controller and in-car firmware update ahead of the weekend. The purpose of the update is to try and make the radio communication even better than the current latest release. As this firmware has only been issued to us and not uploaded to the Slot.it website, we require that everyone update their cars and hand controllers on arrival, or during the allotted time for updates in the schedule. Please be proactive in coming to race control for updates, rather than assuming you have the latest firmware already and you'll be ok!
 
Catering information: On both Saturday and Sunday morning SRC Eindhoven are offering a continental breakfast for €5.00. For those attending Saturday evening's meal, please ensure you have €25.00 cash ready on entry as you will be asked by the restaurant to pay in advance.
 
Media information: I'm hoping to bring reasonably frequent coverage of the GT3 event and the WEC 6 hours using facebook, twitter and instagram so if you'd like to follow what's going on then I recommend you follow officialdisca on those channels.
 
Safe journey to all travelling to Best and I very much look forward to meeting with everyone at the club :cheers:
---
mtucker

-

29-1-2018 at 10:57

A great weekend of socialising, racing and making new friends.

Huge thanks to SRC Eindhoven and in particular Steffan, Tamar and Paul for hosting us, organising, keeping calm when things did not quite go to plan, and running an excellent and packed race programme.

A good UK contingent from Rockingham (John, Adam, myself, along with Keith 'the finger' Fishenden and Jon 'spend 3 months on a car, race once and put it on a shelf' White), Quorn and N Staffs. That meant 5 uk entires in Saturday's GT3 races and 4 in the WEC endurance on Sunday.

Adam and I managed a 2nd and 3rd in the two GT3 races, with the second race being very close with 2nd (Fish & Haddock), 3rd (us) and 4th (Thorpe and Wade) less than 1/2lap between us. Great racing. We ran a Sideways Lambo that proved extremely capable.

The meal on Saturday evening was excellent, a definite place to return to.

Sunday's 6 HR endurance was interesting. The top 3 from Rockingham's round of WEC battled it out for top spot. Racing for Belgium Slot it Lola lmp1, SRC Eindhoven and scaleauto Porsche GT and Rockingham (Keith, Adam and I) with our trusty Toyota lmp1. It was nip and tuck all the way with never more than 5 laps between us. We broke a lead wire that cost us 7 laps, and the Porsche in the hands of Steffan, Leonard and Paul proved a tad consistently quick. Racing for Belgium in the last 3 mins had 2nd place by 4 laps from us, but unfortunately broke a guide post. So a Porsche gt (sidewinder mabuchi) took the win by 13 laps from us and racing for Belgium 26 laps further back.

A great race. John Underwood, Jon White and Gary Skipp were 4th another 40 laps behind the Belgium team, but they took the p2 win.

Really enjoyable weekend, great company and racing held in the fun but competitive spirit it should be (most of the time!!).

We will be back and encourage other to sample the delights of Eindhoven and the hospitality of SRC Eindhoven.

Matt
---
tamar

-

29-1-2018 at 14:05

 
But most happy to read here and on social media that we've managed to entertain our slot racing friends and host an good race at the same time.
It takes an enormous amount of energy to organise such events and I would like to thank every body that has attended, participated and had given a helping hand in this weekends
Suzuka Double Digital.
In the coming week/days we'll be posting more data, result, images and possibly videos. In these times everybody with an smartphone is an amateur photographer, blogger etc etc.
But it takes time to get them all (including mine) on the same platform.
---
LMP

-

29-1-2018 at 17:28

Thanks to everyone that made the trip to Best for this weekend's event, whether you travelled from near or far! It's a testament to the quality of the facility and the friendly hosts to attract such healthy grids for both events. Extended thanks to Tamar, Paul, Stefan and everyone who helped behind the bar over the three days.
 
The GT3 grid looked amazing and provided two excellent races. The WEC field was very high quality with new racers from Charleroi and the Danish Le Mans team entering cars. I'm extremely pleased the appeal of DiSCA racing continues to reach clubs all over the continent and draw them to events like this. It only enhances the quality of the event and the special feeling of taking part in the company of other esteemed slot racing clubs and racers. Great stuff!

---
mtucker

-

31-1-2018 at 13:46

GT3 Race 1
1hr race with enforced 1min pitstop and driver change


 
1. Slot Racing for Holland - Bentley 273 laps
2. Rockingham - Lambo Hurrican 262 laps
3. Fish & Haddock - Merc SLS 259 laps
4. Slipstream 255 laps
5. AM Racing 251 laps
6. Eascote Exiles Merc SLS 250 laps
7. DiSCA - Lambo Hurrican 249 laps
8. Clearwater 249 laps
9. H2 Ollifer 244 laps
10. North Staffs 232 laps
11. Hopeful Six 2 229 laps
12. 50+ 200 laps
13. Bastos 200 laps
14. Hopeful Six  88 laps

 best time: 11.88 AM Racing & DiSCA
 
GT3 Race 2
1hr race with enforced 1min pitstop and driver change

1. Slot Racing for Holland - Bentley 266 laps
2. Fish & Haddock - Merc SLS 264 laps
3. Rockingham - Lambo Hurrican 263 laps
4. Hopeful Six  263 laps
5. AM Racing 260 laps
6. DiSCA - Lambo Hurrican 257 laps
7. Clearwater 254 laps
8. Eascote Exiles Merc SLS 250 laps
9. Slipstream 250 laps
10. Hopeful Six 2 246 laps
11. H2 Ollifer 245 laps
12. North Staffs 230 laps
13. Bastos 201 laps
14. 50+ 1 lap

 best time: 11.67 SRfH
---
mtucker

-

31-1-2018 at 14:25

Suzuka 6hr endurance, DiSCA rules for P1, P2 and GT

1. Slot Racing for Holland - Porsche 997 GT 1683 laps 11.63sec
2. Rockingham - Toyota TS-030 P1 1670 laps 11.75sec
3. Racing for Belgium - Lola P1 1642 laps 11.81sec
4. Eascote Exiles - P2 1592 laps 12.30 secs
5. Slipstream 1528 laps 12.35 secs
6. H2 Ollifer P2 1508 laps 11.57secs
7. Hopeful Six P2 1478 laps 12.38 secs
8. SRCB 1427 laps 11.66secs
9. Hurracan Comp 1419 laps 12.00 secs
10. Roadkings P1 1406 laps 12.02sec
11. N Staffs GT 1373 laps 12.88sec
12. Stryker Racing P1 1362 laps 11.70sec
13. 50+ 1331 laps 13.19sec
14. Clearwater Racing 1212laps 12.36sec


---
tamar

-

15-8-2018 at 01:25

Hello guys, here is the video report of the Suzuka 6hr WEC race made by Theo vd Hurk

---
Admin 1/32

-

18-8-2018 at 17:57

The GT3 grid @ Suzuka, 5 minutes before the start of the race



---